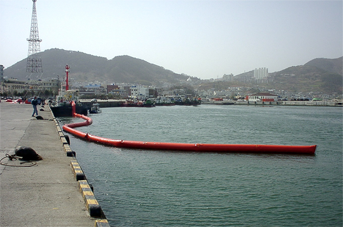 Open Water (Off Shore Inflatable) Boom
Function
Oil Stop Auto boom is designed to be used in conjunction with the Foilex 250 Skimming System in open water. The boom will be used as a containment skirt off of a support vessel for deployment of the Foilex skimmer into the pocket. The Oil Stop Offshore Auto boom is stored on reels in the oil/water separator of the Foilex skimming system in 300 ft. sections.
Specifications
Manufacture(s)
Elastec
Oil Stop, Inc.
Canadyne
Model
Air Max II
Offshore auto boom
AirBoom SCS
Boom type
Curtain, pressure inflated
Floatation
Cylinder (segmented) internal inflatable
Freeboard (in)
18"
Draft (in)
25"
Boom height (in)
43"
Standard length (ft)
100'
82'AirBoom SCS
Skirt material
Urethane coated polyester
End connectors
ASTM
Weight (lb/ft)
4.0 lbs/ft
Ballast weight (lb/ft)
2.8 lbs/ft
Color
Orange
Ballast material
Chain
Total strength (lbs)
56,500 lbs
Operating environment/limitations
The boom is capable of operating in open water (waves of 6 ft.) but is limited by vessel constraints, safety issues, and skimming capabilities while working in open water.
Transportation Modes
| | | | | | | | | | | | | | |
| --- | --- | --- | --- | --- | --- | --- | --- | --- | --- | --- | --- | --- | --- |
| C-130 | DC-6 | DC-3 | 737 | Beaver | Otter | Cessna 206 | Cessna 185 | Heli | Barge | Tug (only) | Lrg F/V | Sm F/V | Pickup |
| | | | | | | | | | | | | | |
Locations & Quantities
Zone 1
Ketchikan


55°23'47.94"N 131°43'45.85"W

Zone 5
Sitka


57°06'53.48"N 135°23'31.89"W

(4,798')
Warehouse
(300')
Samson Barge Yard